28/06/2022
---
Introducing: Holly the Dog!
We love celebrating the skills and experience of the One Broker Ambulance team, and now it's time to bark about our paw-some colleague and chief moral-booster, Holly.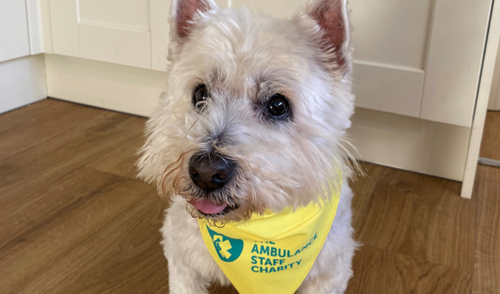 Tell us a little bit about your background.
I've been managing Rob Rowley and supporting the rest of the One Broker Ambulance team for quite a while now. Rob took me on as a pup in a junior role but I soon had him rolling over so I could focus on important things like eating sausages. 
It's been hard work, and I'm now 15 years old according to Rob (although I keep reminding him that I'm 76 in proper dog years). I should be heading for retirement, but those sausages won't eat themselves.
What are the key parts of your role?
I've already mentioned my job as a sausage-eater, but I have other important responsibilities too. Primarily, my role is about keeping Rob and the team feeling paw-sitive. Sometimes Rob has a bit of a ruff day, so then it's my job to step in and get him back on track. He particularly appreciates it when I join in on client calls when he's working from home – I like to add my two bark's worth.
In addition to looking after Rob's stress levels, I also make sure he doesn't pack on the pounds by taking him out for regular walks. It's thanks to me that he was fit enough for that Santa Dash race he did. He is especially fond of the wet, muddy walks I take him on. He then has to wash me to keep me looking fur-bulous.  
What have you learned about the business?
I always keep my ears pricked while Rob is on the phone and I make sure I listen in. It seems that independent ambulance services have a lot of trouble finding the right insurance, but Rob is very good at sorting that issue out – with my help of course. 
I have also learned that there is definitely a direct correlation between the number of treats I get and the number of policies that are completed. Rob – take note.
What do you like to do when you're not working?
I have a pretty exhausting working week, so when I get some downtime I like to lie in a warm spot and have a nap. Cuddles and tummy rubs are also important. I don't laze around all the time though. I may not be a pup any more but I still look forward to my daily walks. On weekends, I get Rob to take me on my fur-vourite routes so I can meet some of my fellow furry friends.
Want to discuss your insurance needs?
If you'd like to talk about your independent ambulance service's insurance needs, you can get in touch with Rob Rowley and the team by calling 01603 218295.
Related Articles