15/05/2023
---
Shuttleworth Collection: Classic vehicles case study
If you happen to be visiting the Shuttleworth estate in Bedfordshire, you're most likely to catch a glimpse of Stuart Gray when he's powering around the sprawling site in a 1945 World War II Jeep. With 6 hangars filled with glories from the past, including vintage aircraft, steam traction engines, vintage tractors, Edwardian cars and buses, a quick and reliable mode of transport to get around is a necessity.
As Vehicle Manager for the Shuttleworth Collection, Stuart has plenty of responsibility on his shoulders. In addition to managing a volunteer staff of 60, he is also charged with hunting down new exhibits for the Collection to restore and put on public display.
This isn't a mission for the faint-hearted, but fortunately for the Shuttleworth Collection, Stuart has spent the last decade rising to the occasion.
From train sets to traction engines
Stuart's establishment at the helm of the Collection's vehicles is the culmination of more than 50 years of membership in the steam fraternity.
His interest in veteran vehicles was first sparked with the gift of a train set as a child. His father also happened to work for a traction engine manufacturing company, so in the 1960s Stuart found himself at a number of steam rallies. "The problem with steam rallies is that once you start going, you're hooked!" chuckles Stuart. 
This fed into a wider interest in other machines, including boats, trains and cars. At the age of 17 Stuart then took on his first veteran vehicle with the purchase of a Land Rover Series One. It's now been in his care for 54 years, and it is still going strong.
It's no surprise that restoring vehicles quickly became a passion for him. He purchased and restored a variety of steam vehicles, such as traction engines, steam wagons and early Edwardian steam cars, as well as vintage cars and motorcycles. Over the years, he completed most of the restoration work himself.
On the whole, these restorations were carried out as an engrossing sideline while he built his own international marketing consultancy, but they also led to a new business opportunity.
As traditional businesses began to decline, Stuart found himself in need of consumable parts for his Sentinel steam lorry he was working on. After ordering an excess of what he needed, he sold off what he didn't require to like-minded enthusiasts. This eventually developed into Heritage Steam Supplies, which still boasts a 440-page catalogue that caters to the bespoke needs of heritage railways and private enthusiasts.
Joining Shuttleworth
After a successful career in marketing, Stuart began volunteering for the Shuttleworth Collection. The collection of vintage aircraft and vehicles was started by Richard Shuttleworth, who was sometimes referred to as a Mechanical Vehicle Antiquarian and Enthusiast, racing driver or 'The Flying Squire'. Sadly, Richard was killed in a night flying training accident in 1940 and Dorothy Shuttleworth, his mother, decided to continue with the collection as a permanent memorial to Richard. Today the collection is part of the Richard Ormonde Shuttleworth Trust.
While volunteering for the Collection, Stuart noticed that most of the vehicle exhibits, which had been running for the previous 80 (or more!) years, were in urgent need of restoration.
After making his case to the Collection's trustees, he was given the task of overseeing the work as Vehicle Manager. But restoring historic vehicles is rarely straightforward, especially when the ethos of the Collection is to keep each one running as it once did. 
Naturally, this has placed a huge demand on Stuart and Shuttleworth's skilled force of volunteers. "Nothing is easy!" explains Stuart. "We aim to restore vehicles to a very high standard as we want to make sure that they are fit to remain running for another 100 years or more. Many component parts have to be made by ourselves or manufactured by specialists. Very few spares are in existence." 
In other cases, modern alternatives have to be found. "Some things you just can't use anymore, such as asbestos, along with some types of paint and lubricant. It's a compromise." However, other modern innovations have aided the dedicated restorer, with 3D printing, laser welding and CNC machines all assisting.
After many hours of tireless work, this careful restoration project is finally nearing completion. And as a result, it has brought star exhibits such as the 1900 Panhard et Lavassor and the 1903 De Dietrich (which was raced at Brooklands Circuit) back into full working order, ready for new generations to enjoy.
Expanding the Collection
But Stuart's role has not just been restricted to restoring what the Collection already had. He has also been tasked to create new exhibits for the prestigious collection, with a focus on Edwardian and vintage vehicles dating up until the late 1940s.
Since the start of Stuart's tenure, he has successfully seen a number of agricultural implements added to the Collection, including a genuine Clayton and Shuttleworth agricultural traction engine and associated threshing drum equipment. "This came as part of a large and generous donation from a family in Cornwall, which has allowed the Collection to have a meaningful exhibition of items that go right back to the Clayton and Shuttleworth family's industrial heritage," says Stuart. 
One of the Collection's most recent acquisitions has also been a portable steam engine, a type that was exported all over the world for the sole use of driving or powering machinery. "I wanted to obtain a portable engine for the Collection as the Shuttleworth family sold thousands of them from the mid-19th century through to the early 20th century," explains Stuart.
He eventually sourced a suitable engine from a number that were re-imported from Chile. It is currently being expertly restored. "When finished, it will become one of the main exhibits in the Collection," says Stuart with pride. "It goes right back to the Shuttleworth heritage as it's at the very heart of where the family fortune came from."
However, the most popular additions as far as the public are concerned have to go to the three Leyland Edwardian buses, which were offered to the Collection and purchased on Stuart's recommendation by the Trust. 
"I introduced the concept of having Edwardian buses on site because it gives people the opportunity to engage with the Collection," says Stuart. "There's nothing better than a bus for doing this, as people can get on and have a ride to experience what Edwardian travel was really like."
The buses consist of a 1913 double-decker, which is the oldest pre-World War I bus that offers rides to the public, an "exceptionally elegant" 1923 White Rose bus and a 1921 Charabus. The latter is particularly eye-catching due to the fact that its windows can be removed and its roof rolled back when the weather is fine.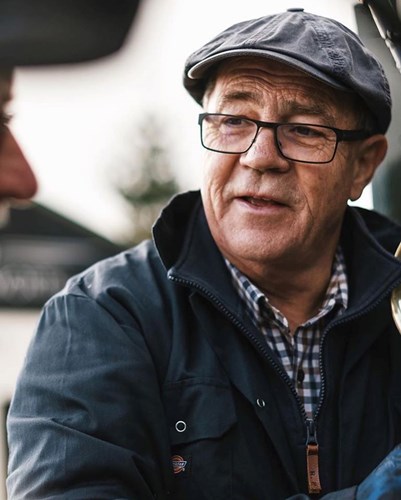 Protecting our heritage
After spending so long restoring vehicles back into working order, it is unsurprising that Stuart is then keen to ensure that they are protected should something go wrong. But this hasn't always been straightforward, as Stuart explains: "You rely on the insurance for the Collection. But with the range of vehicles we have, you just don't tend to get the right sort of cover and confidence."
However, this changed when Stuart began working with One Broker. "I'd been working with a number of independents, but over the years these had been bought out, which meant their knowledge had been diluted. It became a question of price, and I was left wondering 'what happens in the case of a serious claim?'.
"With heritage vehicles, the market value is usually less than the cost of repair, should a claim need to be made, which doesn't always sit well with insurers. The thing is, we're interested in preserving the history of our past. You can't put a monetary value on that."
As One Broker was already insuring the Collection's aircraft, Stuart decided to speak to Personal Lines Director Shaun Lenton about expanding the cover to the rest of the Collection's vehicles, including the steam vehicles. "Steam vehicles can be hard to insure because of their requirements, but One Broker simply said, 'why not?'. We had a great reaction from them and gained a competitive quote from them."
When the Leyland buses came along, One Broker was also up to the challenge of arranging the right insurance. "They've been really helpful with the buses," says Stuart. "They've helped us find the right insurance for the buses themselves, as well as the staff and public who drive and ride in them."
Would Stuart therefore recommend One Broker? "I tell everyone to go to One Broker," concludes Stuart. "And no one I know of has ever been dissatisfied."
Choosing a favourite
Under Stuart's direction, the Collection has grown to include the three Edwardian buses, three steam engines and 27 cars, with 11 eligible to take part in the prestigious London to Brighton Veteran Car Run. 
He may have been volunteering and working at Shuttleworth for 15 years now, but this has not dimmed his enthusiasm: "It's a privilege to work in the Collection with so many rare and historic vehicles," he enthuses.
Could he go out on a limb and pick a favourite? "Impossible!" he says. "Although I may have to say the Ford Model T, because it seems to be the only one that starts first time!"
Talk to our team about your vintage vehicles
If you'd like to find the right insurance for your classic cars or other vintage vehicles, get in touch with our experienced team today. We'll take the time to get to know your vehicles and your needs to ensure you have the right protection in place.
Related Articles