10/04/2023
---
Interview with Nick Pellett, Co-Founder of De Dion-Bouton Club UK
The sight of 19th century motorised tricycles blasting around a circuit, their drivers leaning hard into the corners, is something that may never have been seen again.
But in 2017, a full 120 years after the first such race was held, a total of 20 motor tricycles gathered together at the Brooklands Circuit to race once more. This was the culmination of extensive research carried out by Nick Pellett, motor sport consultant for the Shuttleworth Collection, whose enthusiasm for motor racing history led him to unearth the true origins of the sport, which featured three wheels, not four.
To find out more about how the discovery was made and the man who made it, we spoke to Nick about where his fascination with old cars began and how he built his own historic vehicle collection, including the now-famous tricycles.
Child of the 60s
Nick, who has created historically significant motoring events for institutions and the government over the last 20 years and has a seat on the Steering Group Committee for the London to Brighton Veteran Run, first fell in love with old cars at a young age.
"Back in the heady 60s, old cars were cheap," he explains. "Cars would come and go very quickly, so you could get your hands on one much more easily." His very first car as a 21-year-old was therefore a 1937 Austin 10, which was bought in 1967 for the grand sum of £17 and 10 shillings. This was already quite a bargain even with inflation taken into account. However, this sum also included 9 months' of road tax, which brought the actual cost of the car down to an even more pocket-friendly £5. 
This purchase sparked a passion for other older vehicles, which Nick would gamely take on driving holidays. These expeditions included a drive from England all the way to Lisbon and back in a 1932 Alvis Firefly, although the trip wasn't always comfortable. "Driving through Spain was interesting… There were no motorways in those days, so it was often like driving over cobbles filled in with potholes!" he remembers. 
One car Nick still has from this period is his 1933 Riley Special, which he has kept as a memory of good times with his late brother, who sadly passed away in 1980. "We did so much together involving that car," reflects Nick. "I couldn't part with it."
Historic vehicles from the 1890s to the 1960s
The 60s, however, mark the current end-point of Nick's historic car collection, which reaches back to the 1890s. Each is meticulously researched by Nick and maintained or restored by specialists to top condition to ensure they are fit for the use they are put to. 
The very earliest vehicles under his guardianship are from French manufacturer De Dion-Bouton. These include three motor tricycles, which were made before the turn of the 19th century, and a 1903 De Dion-Bouton car, which has completed the London to Brighton Veteran Run multiple times. A unique three-tonne De Dion-Bouton lorry from 1911 (formerly owned by the French army and kept in a derelict condition for 100 years) has also been magnificently restored and is now kept with the Shuttleworth Collection. 
His 1914 Newton Bennett, in which Nick had the honour of accompanying Prince and Princess Michael of Kent at Lancaster House, was acquired from the National Motor Museum some 20 years ago. It has had only two previous owners, one of whom was the original manufacturer, who kept this rare example in his family for decades. 
Cars that have been raced by Nick include a 1914 Sunbeam Tourist Trophy, which won in the Isle of Man that same year and now races in the SF Edge Trophy at Goodwood, and an original 1931 Talbot team car. The latter finished third in the 1932 Le Mans 24-hour race, and will be racing again with Nick at the wheel in the Le Mans centenary celebrations in 2023. A handbuilt 1953 Frazer Nash Le Mans Coupe, which still has only 16,000 miles on the clock, is also raced occasionally. It is always certain to draw a crowd at events due to the fact that only 8 were ever built.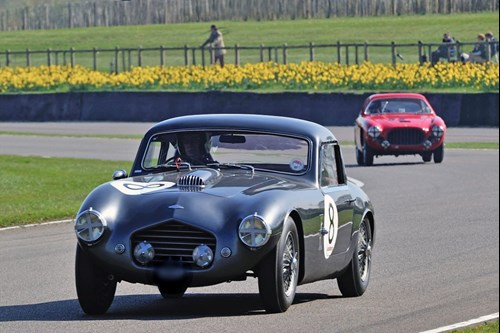 A 1963 Alfa Romeo 2600 Spider and 1963 Morris Minor "Woody" (a gift for his wife) also sit proudly in his collection. 
With such a star-filled garage, it is perhaps not surprising that Nick is not looking for anything else. "I've owned everything from Ferraris to Bentleys. I've really 'been there and done that'," he explains. "Old cars are a little like a disease – once you've got it, they're fatal! So I don't feel as though anything is missing. If anything, I might look to reduce my collection by a car or two!"
To protect these precious cars, Nick relies on the experience of Shaun Lenton of the One Broker team. 
"I'd been with the same insurance firm for decades but then my insurance got too complicated for them. One of my contacts put me in touch with Shaun, so I got Classic Vehicle Insurance for my De Dion-Bouton lorry and then passed over the rest of my cars to One Broker's cover."
Discovering the origins of motor racing
Around 20 years ago, Nick's love of racing got him thinking. "It has always been illegal to race on public roads in Britain," he says, "so I was puzzled by how motor racing started in this country if it couldn't be done on the roads".  
This kick-started Nick's research into the subject, and he discovered that motor racing actually began much earlier than originally thought. Even more unexpectedly, it didn't even start with four-wheel cars.
"It all started with Charles Jarrott in 1897," explains Nick. "He got two tricycles and a motorcycle, and used a new cycle track in Richmond Park to race. This became the very first motor race in Britain."
The race was repeated the following year and it grew in popularity, with a 5-mile race becoming the classic format.
At their peak, there were 50 races held in a year. But this popularity proved to be short-lived, with meetings beginning to taper off in 1901 as interest in four-wheeled vehicles grew.
After rediscovering these races, Nick decided to resurrect them. But first, he needed a De Dion-Bouton tricycle. 
One was eventually found in France, a purchase that was soon followed up by two more. Around the same time, Nick co-founded the De Dion-Bouton Club to celebrate the marque and broadcast its part in British motor racing. Feelers were then put out to find other tricycle owners and form a new racing team. Nick christened it 'Team Jarrott' in homage to the original tricycle racer.
It was then a matter of finding somewhere to race. As an experienced historic events organiser, Nick rose to the challenge and in 2010 an oval track was created on the new inner circuit at Silverstone Classic. Four races were held – the first for 100 years – which gave Nick and the other competitors an opportunity to hone their skills. 
"There's definitely a technique to keeping tricycles stable!" laughs Nick. "You have to keep them going fast round the corners, as everything is done with levers, so once they're in position you don't want to mess around with them too much. You then need to lean hard in the corners to balance them." 
The races have gained traction ever since. "For the 120th anniversary of the first-ever race, we went to Brooklands Circuit and gained a lot of publicity," says Nick. "In the end, we had 20 tricycles racing!" Motor tricycle races have also been held at the Top Gear track at Dunsfold, the Flywheel festival at Bicester and at Ostende in Belgium. Team Jarrott tricycle races are unique and are now acknowledged as the oldest motor races in the world. 
Although sprint races are often a feature, it is the 5-mile race that remains the gold standard. 
"It's a survivor's race," Nick explains. "The tricycles can break down, the rider can make a mistake, or they can run out of fuel!"
A busy racing schedule
When Nick isn't racing tricycles, he enjoys testing the limits of his other cars. Of all the meetings he attends, Le Mans holds a particularly special place. "Le Mans is my favourite – it's the fastest track and the biggest event in the racing world."
Looking forward, Nick's aim is to keep his racing career going as long as he can. "I have to work hard on my fitness as you need to get a new International Racing Licence each year, and as I get older I have to prove to the medics that I'm still good to go!" he says.
At present there's no stopping him. With three 45-minute races at Le Mans' centenary celebration and a double header at Goodwood already booked in for 2023, Nick's racing schedule is as busy as ever. 
Long may it continue!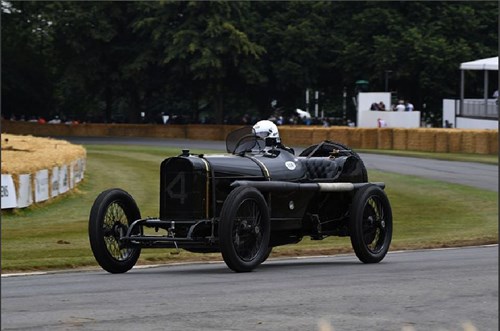 Talk to us about your classic vehicles
If you would like to talk to our experienced team about protection for your classics, please get in touch! You can call the team on 01223 792265 to find out more. 
Related Articles