03/04/2023
---
Craftmaster: Classic Vehicle Case Study
Craftmaster has built a strong reputation for its heritage paints – and its own use of them. The family owners of the business have spent many years restoring their own vintage vehicles and steam engines, creating an admirable collection in the process. 
And now this has led to a new branch of the business being launched. 
Craftmaster Restoration is headed by Jamie Allen, who has more than 15 years' experience in the vintage engine and steam world. Although a relative new starter, this side of the business already has several exciting projects under its belt.
To learn more, we sat down to chat with Jamie about his past experience, the family collection and the current work of Craftmaster Restoration.
A young disciple
Jamie Allen cut his teeth in the world of vintage engineering and restoration at a young age. As a boy, his dad invested in a steam engine, which Jamie then worked on alongside him. This gave him his lifelong interest in engineering, which led to an apprenticeship and eventually to a role as a locomotive engineer on the famed Nene Valley Railway.
While there, he was able to work on well-known locomotives, including The Flying Scotsman and Tornado. However, he actually had more of a soft spot for the railway's less spectacular machines. "The smaller shunting engines were more fun!" he admits. The job did, however, mean that he also got to work on Thomas, the steam train made famous by the book series and children's TV programme. "It means my son is probably the only child who can truthfully say that his dad worked on Thomas the Tank Engine!" he chuckles.
While working on the railway, Jamie continued to carry out his own restoration projects on the side. "I bought my first restoration project when I was 9 years old, and I've bought, restored and sold pieces ever since," he explains. This led to a longing to go into the restoration business for himself. 
"I'd been toying with going it alone, but the timing never seemed right," he says. But then COVID-19 struck, and Jamie set up a small restoration business to keep him going through the long lockdown months. After resigning from the Nene Valley Railway, his fledgling company was taken into the Craftmaster fold, the business of his in-laws. Craftmaster Restoration was then born.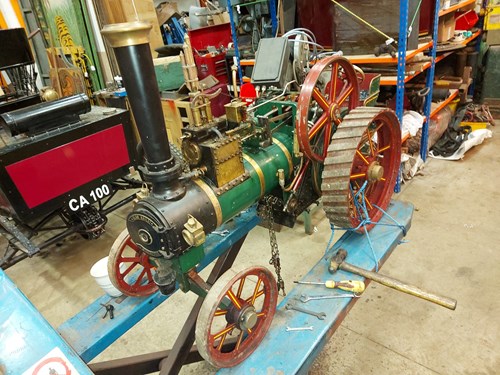 Steam cars to Showmans
The new business fits in nicely with the Craftmaster family's long obsession with their own restoration projects, some of which have taken decades of patient dedication to complete.
"We've basically got a small museum!" laughs Jamie. "We've got an ERF Showmans Tractor, which the family bought about 25 years ago. It's now been fully rebuilt and restored. Our collection also includes steam rollers, vintage cars and a Foden OG."
The latter required a great deal of work on its wooden cab, which needed careful restoration to ensure the continuation of its original appearance. This gave Jamie one of his first forays into woodwork, which was very alien to him. "Luckily, my father-in-law is a former cabinetmaker, so he took me under his wing. He now says that the apprentice has become the master!"
Using Jamie's skills, Craftmaster Restoration offers a comprehensive range of restoration services, from steam engineering and boiler work, to woodwork. One of the business' most exciting current projects is the Burrell Scenic Showmans Victory, which has come from the Thursford Collection.
"Victory hasn't been steamed since the 1970s," says Jamie, "so there's a lot of boiler work to do." This includes a full mechanical overhaul of its steam components, as well as the replacement of some key stays and rivets. "It's a massive project, so to be picked as the contractor to restore it and get it running again is great."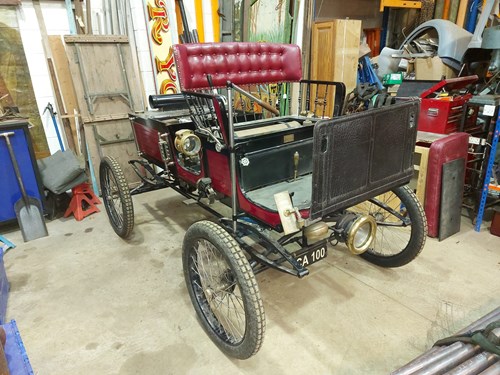 Family favourites
When it comes to his favourite projects, Jamie's heart remains in the world of road steam engines, which is where his path to engineering began alongside his father. 
However, when his wife Charley Allen brought home a steam car to restore, Jamie admits feeling a little out of his depth. "I knew absolutely nothing about it! They run on petrol, which is pressurised and then shot at a naked flame. We've lost a lot of eyebrows fixing it up! We also had to manufacture new parts, which required precision engineering. It's safe to say that a lot of learning has been involved."
But that learning has paid off. The 1899 Locomobile has completed the London to Brighton Veteran Car Run twice, and Jamie has also restored a second steam car (a 1925 Stanley), which is now in top working order.
Getting the right protection
To set up Craftmaster Restoration and protect the family's collection, it was important that they had the right insurance in place – not an easy task when you're dealing with machinery and steam engines. "We need a very broad spectrum of cover, and a lot of it is safety critical," explains Jamie. "Boilers are basically just bombs waiting to go off, and there's also a lot of bespoke machinery."
However, Craftmaster has found the right partner in One Broker. "One Broker has been brilliant," he enthuses. "Shaun Lenton has been to loads of steam rallies so he understands the importance of these engines and machines to people.
"I'd also say that One Broker is very sensible about the risks. It's not easy, but they are always available to answer our questions and reassure us about what cover we have in place."
Looking to the future
"Over the next 5 years it would be great to grow and employ someone, maybe two people. It's a very niche sector but it would be great to become well established with a good reputation," says Jamie.
Until then, he will continue to pick up new contracts and keep a few restoration projects on the side for his own enjoyment. "I have a lot of connections in the restoration world. Nine times out of 10, I get wind of a new project by word of mouth. There's always something to do so I'm always in the workshop!" he laughs.
It is perhaps unsurprising, then, that his son is intrigued by his work. "He's only 2 years old but he's already showing an interest," says Jamie fondly. "He will pick up little blocks of wood and get me to cut them before stacking them up. Hopefully he will follow in my footsteps."
Talk to One Broker about Classic and Vintage Vehicle Insurance
If you have a vintage vehicle or classic car, talk to our knowledgeable team to discuss your needs today.
Related Articles