24/07/2023
---
Ramping up the fundraising for TASC!
Since naming The Ambulance Staff Charity (TASC) as One Broker Ambulance's chosen charity in 2021, our colleagues have been finding ingenious ways to raise valuable funds for the cause.
In recent years this has included a 5K Santa Dash, sponsored skydive, a spooktacular bake sale and an epic bike ride! The hard work has continued into 2023, which has resulted in a further £1,965 being raised for the charity.
A wheel good time
In May, some intrepid cyclists showed their pedal power with an ambitious cycling feat. 
Beginning at our new Cambridge office, the team saddled up to ride an incredible 70 miles to our base in Norwich. The journey took them through the gorgeous Suffolk and Norfolk countryside, but the riders also had to contend with a strong headwind for most of the way!
However, everyone arrived safe and sound in Norwich by the late afternoon. Once the total was added up, a fantastic £750 was raised for TASC. 
Change for charity
But our fundraising efforts didn't stop there. 
Over the year, another £1,215 has been raised from the donations we make to TASC for every new client we take on. As a result of these generous donations, we've been able to push our fundraising total to £1,965 so far – an amazing achievement!
Rob Rowley, Associate Director, comments: "We're delighted by the total amount raised for the charity. We've seen some fantastic fundraising efforts within the team and we're looking forward to much more in the year ahead!"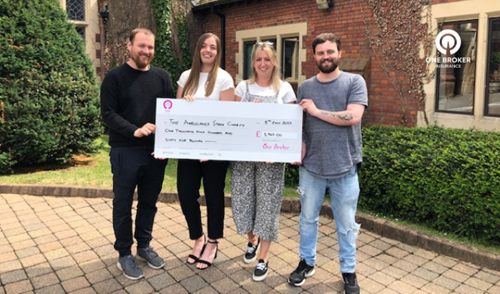 [Image Left to Right: Shane Ford, Rachael Rodden, Bex Kent and Jack McManus]
Why we're supporting TASC
The Ambulance Staff Charity has been our chosen charity since 2021 because of the incredible work they do for past and present ambulance staff, their families, student paramedics and ambulance service volunteers, such as community first responders.  
Thanks to TASC, service users get access to a range of support that includes counselling, physical rehabilitation and access to a money expert who can help with benefits and income maximisation. TASC's services have also now been extended to include an Ambulance Staff Crisis Phoneline, a first-of-its-kind service in the UK that provides immediate and ongoing confidential support for ambulance staff who are experiencing suicidal thoughts. 
The £1,965 we've raised in 2023 could help TASC pay for an extra 41 counselling sessions or 98 hours of support for people struggling with their finances. Our fundraising will therefore provide a much-needed boost to the charity.
To stay up to date with our latest fundraising events, make sure you follow us on Twitter, LinkedIn and Facebook. 
Related Articles