07/06/2021
---
Q&A with OnCue Transport's Torsten Brose
In spite of the challenging circumstances presented by coronavirus, Hampstead's OnCue Transport has thrived over the past 12 months. In this article, Managing Director Torsten Brose tells us about the company's evolution into a leading patient transfer service and the challenges of growing a business during a pandemic.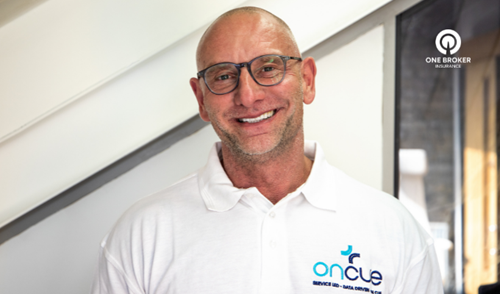 Having joined the business as a consultant 3 years ago, Torsten Brose is now the managing director and a major shareholder at OnCue Transport. In that time, he has transformed the business from a traditional cab company into a sophisticated patient transfer company, serving communities in and around London. 
Operating a fleet of MediCabs, their 'companion drivers' transfer patients to medical appointments, providing a vital service to patients with walkers or wheelchairs. And while they primarily interact with patients, they often subcontract for other companies. Torsten explains that it helps larger companies manage their own profitability and productivity. 
"It's because of the efficiency paradox," he says. "If a big ambulance company has got 1000 journeys within its contractual area, it might be able to fulfil 100% of them but they'd need more vehicles to do it efficiently. However, there is likely to be a mix of jobs in there, so our pitch is that we don't want all of the work; we just want the 20% they can't do efficiently. 
"We want to do the 20-30% of work that they will never be able to do efficiently on any contract because it's just impossible. So we're offering to save them money, run their vehicles more efficiently and be more productive. It's a potent mix." 
And it's certainly a model that's driving results. 
"We started January 2019 with 4 cabs. We now have 112, with 25 waiting to come on board as and when we need them. We've stopped doing any cab work, focusing exclusively on our MediCabs service," Torsten explains. 
Growing pains
Given the increase in the size of the fleet, the key challenge for the business over the past 12 months has been scaling growth efficiently. 
"Growing that quickly can be risky," Torsten says. "You might think that people want to lend you money for vehicles but very fast growth is often seen as a red flag. Plus, we're building the infrastructure as we go. It's like a cartoon with Wile E. Coyote building a bridge one sleeper at a time while running across it!
"In the autumn, we had a 25% increase in work in a single month. Now bear in mind it takes a minimum of 6 weeks to order a vehicle and get it on-site; we had to rent the vehicles, but that had a cost implication. It's a challenge. 
"It's been very hard for us to plan because some of our customers' work fluctuations have also been nuts," he adds. "For example, we went into November with another lockdown and we saw a 20% drop in turnover; you can't plan for that but suddenly you've got 20% less money. 
"Covid has provided us with many advantages but it's also provided us with equal challenges. Managing growth, bringing on the right people and getting the right processes in place is the main one."
Building relationships
Torsten emphasises that people are key to growth. A restructure is already underway at OnCue Transport, with experts being brought in to manage the workload and plan for the future. Culture is at the heart of getting this right, especially when recruiting new driver companions. 
"If you don't want to help people, this isn't the job for you," Torsten states. "Our driver companions ensure that people have a great experience on their way to and from hospital, whether they're going in for a cancer op, waiting for scary results or attending a routine check-up. The driver bit is the easy bit; it's the companion bit that really matters. I really like the fact we make a difference and that we help people." 
Quality of service and systems are therefore essential – and something that OnCue Transport takes seriously. 
"We're developing something called NHS Ready. It demonstrates to our clients that we have streamlined processes in place. We've got a compliance and training manager who passed a CQC check with flying colours so that's great, but as you grow there are new requirements that you may never have heard of, like Cyber Essentials Plus. These requirements are embedded in processes within the NHS and they're expensive and time-consuming to get right. 
"They all revolve around having a written process in place and being able to demonstrate how you do things across your business. There's some simple stuff, like people logging in and out of computers and how you transfer work, to really detailed and comprehensive processes, which we're going through at the moment. 
"We've already got ISO 9001 accreditation, which is quite helpful because some of the processes are similar, but we brought in a contractor to help us. It's expensive but essential if we're to behave like a big company." 
And underlying that big company mentality is an insurance partner that understands what the business does and the risks involved. 
"Rob Rowley is, without doubt, the best insurance broker I've ever had and that is for a number of reasons," Torsten enthuses. "He's a really personable guy; if I need to speak to him about something, he always fits me in at convenient times. Also, his detail on paperwork and explanations and comparisons are great; he's always proactive. 
"When I started here the insurance was all over the place and we weren't adequately risk-managed with some of it either. We've got a lot of confidence in One Broker, and with Rob in particular, so we're starting to move more policies across to them. 
"Rob's really good and really efficient. You can ask him straight questions and he doesn't answer in insurance-speak; he answers in real language so you can understand. He helps you understand the risk so 'if you do this, this could happen'.
"The nightmare scenario for any PTS operator in this market is that you get a large personal injury claim. So we've installed the latest Samsara dash-cams with the most advanced telematics I could find; they are quite expensive but really good. 
"We have had one ongoing claim so our premium's gone up a bit but Rob's helped me a lot. We're now with a different insurer and we've built a 3-year deal where I know what our insurance premiums will be over the next 3 years (with a top and bottom cap, based on claims), which is critical for financial planning. 
"For us, increased insurance premiums are money straight off our bottom line so it's vital we manage it well and keep that down. Rob is really enabling us to do that. He comes armed with so much information; I've never had a broker that's worked as hard as he does."
Need to discuss your ambulance company's insurance?
Contact the One Broker Ambulance team on 01603 218222 to find out how we can help you today.
Related Articles