14/06/2021
---
I love my thatched property: John Hambly
As an insurance broker that specialises in Thatched Property Insurance, we love speaking to clients about their homes. Learning about their history and their quirks – and their owners' passion for heritage properties – is a real joy. 
In this, the first in a series of interviews with thatched property owners, we speak to John Hambly about his Grade II listed home in Buckinghamshire. 
To start, can you tell us a little about where you live?
My wife and I live in Buckinghamshire in the Chilterns, in an Area of Outstanding Natural Beauty, near Chequers. We have lived here for 35 years – I think it will be 36 in September 2021.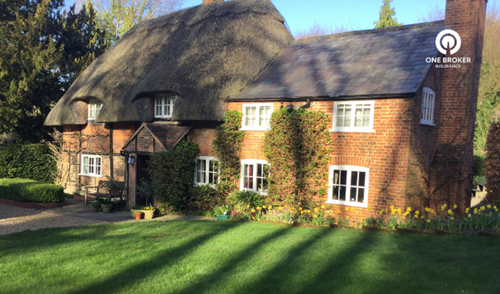 Do you know much about the history of your home?
It was originally two farm labourer cottages that were later converted into one home. It's also Grade II listed but we don't know the exact age. 
When we arrived, the building was in a parlous state. It was on its way to falling down so we had to undergo major restoration work. During the project, the timber-frame specialists looked at some of the purlin and rafter joints in the roof void and determined that the property was around 500 years old, based on the way it was constructed. 
We discovered many interesting things during the renovation, one of which was in an upstairs room. The builders removed some old plaster and discovered an old chalk-blocked chimney breast. Cut into the chalk was the date 1657 – a reminder of Oliver Cromwell's reign as Lord Protector. We have protected it by covering it with a small glass plate.
Have you had any other work done?
It took the best part of two years to repair and restore the cottage, and now the building is probably stronger than when it was originally built. 
When carrying out work on a listed building, you are required to use traditional materials wherever possible. You cannot use random materials. For example, we have added two extensions that were built with traditional bricks, old tiles, hand-finished oak beams and traditional style windows. Everything must be done to retain or complement the traditional or original structure of the building. 
Can you tell us more about the thatched roof?
We had the thatched roof completely renewed during the initial restoration work.
Thatch is a very traditional roof covering and you are required to use materials that are indigenous to the area. Barley straw is used on thatch in the Chilterns, and that is what we used. It was a real privilege to watch a skilled thatcher at work using natural materials and tools that had been handed down from past generations.
It's extremely pleasant living under thatch. It is like living under a large tea cosy that keeps you warm in winter and cool in summer. Thatch is extremely dense. Even in heavy downpours, the rain will only temporarily penetrate about an inch and then it dries out very quickly.
Provided that you take care of the ridge across the rooftop and ensure that it is kept in good repair, your thatched roof can last for a very long time. 
Read more: How long does a thatched roof last?
Did you have any reservations about buying a thatched property?
None whatsoever. However, if I had known what was involved, I might have had second thoughts!   
Unfortunately, I initially engaged a surveyor who did a less-than-perfect survey. The cottage looked charming from the outside, but there were major structural problems within that were not picked up. The surveyor then specified repairs that proved to be totally inadequate. Fortunately, a timber-framed building specialist came to our rescue and the rest, as they say, is history.
Anyone contemplating the purchase of a thatched property would do well to engage a surveyor who is familiar with older buildings. It is also advisable to ask a thatcher to check the roof and state of the thatch.
What do you love most about living in a thatched property?
Well, we enjoy living in a dwelling that has a sense of history. We also enjoy the pleasure that a traditional thatched cottage and its surroundings can provide. It's obviously reminiscent of times past – although we do have most mod cons!
Thatch is no longer as common as it used to be in this part of the world. I can only think of one thatched cottage within half a mile, and that's about it. We need to hold on to these traditional buildings wherever possible. We are custodians of something that must be retained for future generations.
Do you have advice for someone considering buying a thatched property? 
It's always advisable to get a surveyor – and preferably one that is used to dealing with older properties. Failing that, get a thatcher to look over the roof as part of the viewing before you buy. 
We've been very fortunate with the thatchers we've used. They have been very good value for money and have provided excellent service and good advice.
It's worth mentioning that we have an open fire and we get the chimney swept 4 times per year as a safety precaution. It's probably more often than is necessary but it's better to be safe than sorry. As a matter of routine, we also have a fire extinguisher and fire blanket in the kitchen too. 
You've been a John Albion/One Broker client since 1994. How have you found the insurance process?
We've been totally and completely satisfied with John Albion. They've been truly excellent, not only in terms of Thatched Cottage Insurance but also with the Contents Insurance. 
We've had a couple of claims over the years as a result of thefts on our person or our property and there's been absolutely no problem whatsoever. We've always been very straight and honest with John Albion and they've been equally straight and honest with us. They've given us truly excellent service.
Related Articles