01/02/2021
---
How long does a thatched roof last?
Thatched roofs may appear to be a quintessentially British phenomenon, commonly associated with the idylls of rural life, but evidence of thatched dwellings dating back to the Bronze Age have been found all over the world.
And, although they went through a period of unpopularity, thatched properties are now very much in demand. For one thing, they're more eco-friendly than their tiled counterparts, with no mining or quarrying involved, while the materials themselves biodegrade after use. 
Plus, they provide great insulation – perfect for the Great British climate – and allow properties to breathe. Developments in fire safety also mean they are much safer these days, with effective fire retardant chemicals resulting in fewer devastating blazes. 
And that's on top of being easy on the eye!
If you can see the appeal and are considering buying a thatched cottage of your own, we've put together some answers to commonly asked questions about the costs and maintenance. Just click a link below to find the answer. 
How long does a thatched roof last?
Contrary to popular opinion, a thatched roof lifespan may be as long as that of a standard roof. According to Heart of England Thatchers, they can last between 15 and 40 years if properly maintained. The ridge may need to be replaced more frequently; between 10 and 15 years.
A thatched roof's lifespan can be affected by a variety of different factors, including the skill of the original thatcher, the thatch materials used, the direction the roof faces, the pitch of the roof and even the geographic location. Exposure to extreme elements can mean that the roof deteriorates faster. 
Read more: I Love My Thatched Property
How often do thatched roofs need replacing?
When thatching materials break down, they no longer become effective. When this happens, you will need to replace your thatched roof.
How often you will need to do this will depend on what materials were used to make your roof, and how skilled your thatcher was. If a very experienced Master Thatcher used a straw thatch, you may be thinking about replacing it after it has been in place for 15 to 25 years. A roof made from water reed by an equally skilled thatcher could last you from 25 years to more than 40. 
In the meantime, you can have a new coat added to your thatched roof to increase its longevity. But this can only be done so many times before the roof becomes too heavy for the underlying framework of your home. There may also be limits imposed by building regulations in your area.
A Master Thatcher can advise you when the time is right to fully replace your roof.
How much to thatch a roof?
'How much does a thatched roof cost?' is a common question. However, owing to the broad range of factors involved, it can be difficult to give a precise thatched roof cost.
It depends on the size of the roof area (which can be affected by the pitch of the roof), the materials used (and their availability) and the complexity. For instance, if there are dormer windows and multiple chimneys stacks, it could take a long time to complete the job, increasing the labour costs. 
If you choose to install protective netting over the thatch to prevent animal damage this can also significantly add to the thatched roof cost. Scaffolding is expensive too, so the larger your home, the larger this bill is likely to be.
Replacing the thatched roof ridge is a lot cheaper than replacing the whole roof, because it uses less material and takes less time, so it's unlikely you'll need to replace the whole roof immediately. This may be an interim solution before you get the whole roof replaced. 
Ultimately, it's important to ensure that you get several quotes from reputable thatchers. Ask your neighbours for recommendations or check out online reviews of thatching services before picking your thatcher.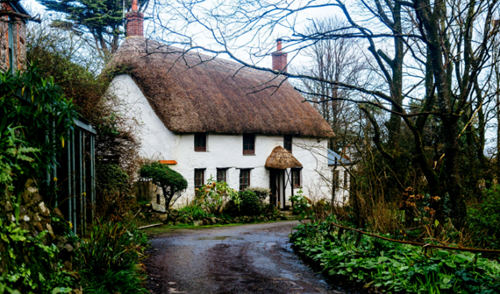 What are thatched roofs made of?
Thatch materials are more diverse than you may expect.
There are three common types in the UK: longstraw, combed wheat and water reed.
Water reed is the most popular in the UK because it's waterproof. Also, because it's hollow inside, it's ideal for insulation. 
Unfortunately, reed roofs can be expensive because of the availability of materials. The UK (the Norfolk Broads in particular) cannot produce enough reeds to cover the nation's thatched roofs, which means materials have to be imported from Europe. 
Read more about Thatched Roof Materials
How can I ensure my thatched roof lasts?
One of the main factors affecting thatch roof deterioration is moisture. Damp conditions allow moss and algae to grow on your roof, which will increase the rate of deterioration.
There are, however, some quick ways to manage the effects of moisture: 
Cut back trees and plants that may block the sun and wind to help to dry the roof.
Clean it with a rake to remove algae and moss.
Spray it with an algaecide to stop algae developing.
Ask a thatcher to check on your roof regularly, so they can fix minor problems such as animal holes. 
You may also be interested in: Thatched Roof Maintenance: Winter Tips
How do I know when to replace my thatched roof?
Due to the cost of replacing a thatched roof, you'll want to put it off for as long as possible, opting for repairs rather than replacement. 
Here are some key things to look out for:
Are the wire nettings and fixings visible? If they are, it's a sign that the materials may be deteriorating and that it's time to replace your roof.
Is there substantial moss and lichen on the roof? It may be better to replace the roof than cause more damage removing it. 
Are the flashings and edges of the chimney pot coming away or damaged?
Is your roof shedding? It could be a sign that the material is breaking down.
Are there visible dips in the surface?
Are there leaks inside?
If you're not sure, speak to a master thatcher. They can assess the condition of your roof and make recommendations. It may be that repairs are possible, or that a replacement ridge is sufficient. 
Read more: Visit our Thatched Property Hub
Got questions about insuring a thatched roof?
Speak to a member of the John Albion team today. They can answer any questions you may have about getting the right insurance protection for your thatched property. 
Related Articles