21/05/2020
---
8 ideas for a safe return to work
As the UK starts to emerge from the COVID-19 lockdown, businesses across the country are exploring how to minimise the risk to employees when they return to work.
At One Broker, we're just the same. That's why we wanted to share some of the steps we're taking to protect our teams and clients as we plan a phased return to the office. We hope it helps your decision-making process.
1. Check Government Guidelines
Before we made any plans, we consulted official Government advice, including:
In line with these documents, we carried out an initial risk assessment using Health & Safety Executive guidance. From there, we created a plan and communicated this to our staff.
2. Ongoing Shielding
We will continue to shield vulnerable employees while there is an ongoing risk of coronavirus. They can continue to work from home in order to stay safe.
3. Office Deep Clean
Although our offices are thoroughly cleaned on a regular basis, we are engaging in a professional deep-clean before our teams return to work.
4. Social Distancing Measures
In line with government advice – and similar to supermarkets – we will implement social-distancing measures. These are our current plans:
A staggered arrival system will be introduced. Each employee will be given a time to arrive and enter the building.
Surfaces in common areas, such as handrails on the staircase, should not be touched.
There will be one way in and one way out of the building. Arrows on the floor will show the direction of movement.
Walkways have been marked out on the floor with tape.
Small meeting rooms will remain closed.
The large boardrooms will open. A maximum of four people can be in the boardrooms at a time.
One-to-one meetings are allowed but employees are encouraged to hold these outside to minimise risks.
Only one employee will be allowed in the kitchen at a time and gloves must be worn to touch taps/kettles/fridge doors, etc.
Shared bathrooms will be scaled down to one cubicle. Employees must wash their hands and clean any surfaces they touch.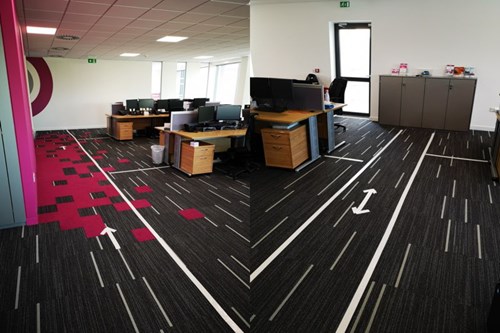 5. Fixed teams
A rota will be put in place for office working. We expect that, at most, a third of the workforce will be in the office at any time. Employees will only be allowed to work at their own station and hot-desking will not be allowed.
6. Distanced Desks
Typically, desks are arranged in banks of 4 and 6, with employees working back to back. This will change, with seating positions arranged diagonally and more than 2m apart. The exact layout will be defined by the rotas put in place.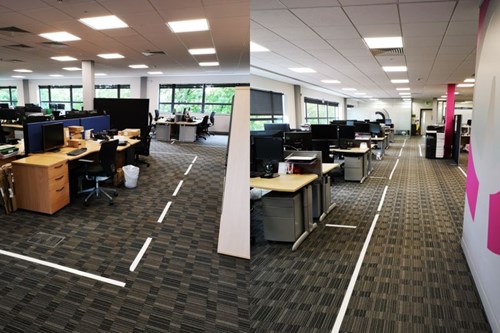 7. Increased Hand-Washing and Surface Cleaning
We have decided to implement a policy where employees are responsible for thoroughly cleaning their own workstation when they arrive for work and after lunch.
Employees will also be encouraged to wash their hands at regular intervals. Sanitising stations have also been installed throughout our offices.
8. Opting out of drinks rounds is now socially acceptable!
Unfortunately, teams will no longer be allowed to make drinks for each other. We will continue to supply coffee and tea but employees will be responsible for bringing in their own (labelled) milk/juice. Employees will be responsible for cleaning their cups and glasses.
As previously stated, one employee is allowed in the kitchen at a time. The kitchen, and any surfaces touched, must be wiped down after use. Common items, such as spoons, are to remain with employees and be cleaned after use. Tea towels have been removed and replaced with paper towels.
We hope that by sharing this, it will give you some ideas about how to effectively return to the office, while keeping your teams safe and well.
Related Articles