07/05/2020
---
Lockdown Life: Mark Ling
Associate Director Mark Ling tells us about a typical day working from home during the lockdown. With personal development, planning and parenting all on the agenda, his diary is packed with activity!
6:00: Get up.
As soon as I wake up, I go for a four-mile run on the treadmill, before doing 20 minutes of strength-training exercises. I'm a firm believer in the mantra: 'healthy mind, healthy body', so this is the perfect way to start my day.
7:00: Wake my son.
My son, Jack, is 2.5 years old and into everything, so the second he's awake, he needs my full attention. Thankfully throughout Covid 19, I'm co-parenting with his mum and it's going really well. We have one week on and one week off to manage our work and family time. Like many working parents, that has been a real positive of the lockdown: I get to spend more time with my son.
8:00: Walk the dog.
After breakfast, I take our dog for a short walk. Jack rides his bike alongside us and we often stop to feed the ducks – he loves being outside. The weather in lockdown has certainly helped.
8:30: Check in with the team.
I settle Jack down to play while I crack on with work. I scheduled a commercial coffee catch up the night before. In this meeting we discussed where we were tracking with targets, retentions, challenges and pipeline. Its also good to collaborate and innovate. The theme of the meeting was for everyone to wear hats…. Thinking caps on. As much as I like structured meetings, adding in a bit of fun helps the creative juices flow.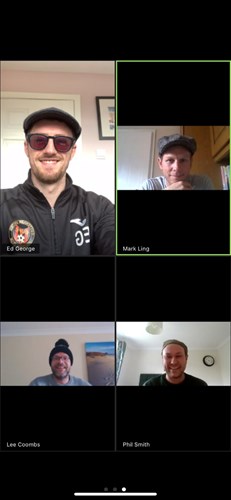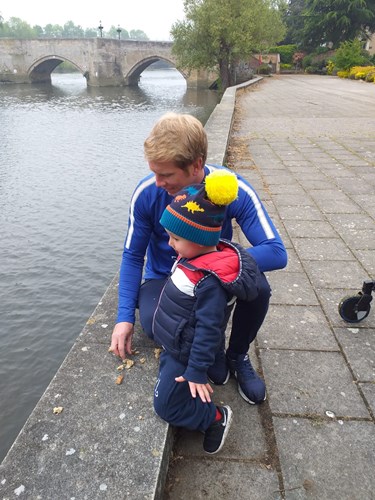 9:00: Calls & Emails.
Once I'm sure everyone's happy, I start work on the insurance renewals I have coming up. I always work closely with my clients and am picking up increased enquiries around coverage and affordability on existing programmes. I understand the challenges some clients are facing at the moment with cash flow and have accommodated payment holidays to assist here.
11:00: Insurer Calls.
I'm responsible for insurer relationships at One Broker's Cambridge office. During the lockdown, I'm booking in time to catch up with insurers' business development managers via Microsoft Teams. We discuss our figures and objectives, as well as the challenges we face, so we can tackle any problems together. 
12:00: CPD.
I'm trying to fit in two hours of personal development per week. Recently I've been enjoying attending webinars, especially those arranged by the Chartered Insurance Institute (CII), British Insurance Brokers Association (BIBA) and our insurance partners.
Many have been topical, covering issues including cyber crime and coronavirus and the impact on our clients. Refining my existing skills and upskilling are vitally important as adds value for our clients.
13:00: Lunch.
Time for a break with Jack. We have a healthy lunch and play for a while. It's good to get away from the screen for an hour!
14:00: Team one-to-ones.
It's important to maintain some structure for the teams, so I've been putting formal catch-ups in the diary with everyone.
I'm glad we can have face-to-face one-to-ones via Microsoft Teams. I like to see people's faces and body language. It gives me a better idea of how they're feeling and dealing with our new ways of working. Plus my own messaging is better with visible emotion.
15:00: Pipelining
As well as looking after existing relationships, it remains an important function of any business to nurture new ones. Managing the sales team in Cambridge, I like to demonstrate leadership behaviours. So I spend an hour a day working on my own pipeline.
16:00: Play time.
If the weather's okay, Jack and I head to the garden. I've had to be imaginative, but we've managed to play football, golf and rugby so far. It's good to burn off some energy!
17:00: Dinner.
When we're both worn out, I prepare some dinner and we eat a meal together. With my culinary skills, thankfully he's not too fussy.
18:00: Bed & bath time.
I get Jack ready for bed and settle him in for the night. We've set up a good routine, so he settles down pretty quickly after a story. I'm lucky in that respect!
19:30: Planning.
I like to check my emails in the evening, so there are no loose ends to tie up. I also jot down my plan for the following day, so I can hit the ground running.
21:00: Downtime.
I watch some TV to unwind before going to bed. I've recently been watching Narcos, The Last Dance and Tiger King. All are very addictive and I'm trying not to binge-watch too much as I need my sleep.
Related Articles