28/05/2020
---
Quarantine Q&A with Sean Clark
In this week's article, we speak to Group Managing Director Sean Clark about running a business in lockdown, future predictions and the importance of resilience.
Tell us about a typical day during the lockdown. What does it look like?
A typical day has an early start. I've always been an early riser so there's no big change there. I use that time to deal with anything urgent before the working day begins. From there, I plan my priorities for the day and the tasks I need to complete.
My wife and I have a daughter, Jess, so we've put a schedule in place to help us manage our responsibilities. I work from 7am until 2pm on four days, while my wife handles the homeschooling; I take over for one morning a week. I use my evenings and Saturday mornings to catch-up.
While my wife works in the afternoon, I enjoy playtime with Jess. I also prepare tea, ready for when my wife finishes work. We both put Jess to bed and have a quiet evening. We typically turn out the light around 11 o'clock.
What's homeschooling been like?
The bit I'm enjoying the most is just how much energy, focus and interest comes through from Jess's innocence and willingness to learn (most of the time - she has her moments!).
We've been doing some project work about New Zealand over the past few weeks. I'm glad that Jess chose to study New Zealand because it's a country I'd like to visit at some point. My love of rugby links into that rather nicely. I managed to get her to watch the haka but couldn't get her to watch anything about the All Blacks! We have also made a junk model of the Auckland Sky Tower. It's all very Blue Peter.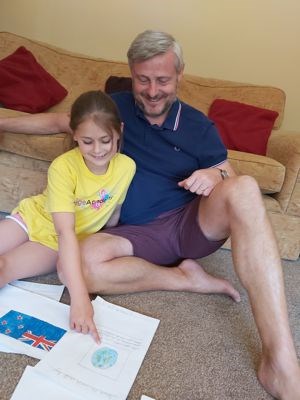 How has work changed for you during the lockdown?
A lot more happens on the phone now. If you ask for Jess's view of what daddy does, she says I talk on the phone a lot!
Can you tell us a bit about leading a remote team?
Our focus has been on leadership and giving people a steer on what's happening. Clarity and transparency are key. I have also accepted that the way I – and the rest of the leadership team – react has an impact on the rest of the business.
Simple changes can make a difference. For example, take communication; when I receive an email from a member of the team, I try to call them to add a personal response. It's not possible all the time but I think it helps.
I've had some nice feedback from the teams as a result. They've had a good understanding of our thinking and that's helped us pull together.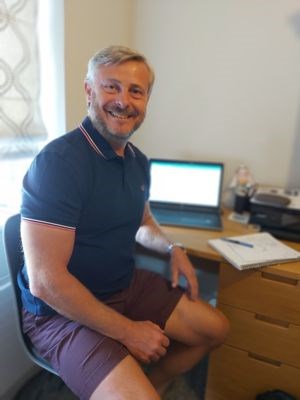 How important is communication between teams?
Very. To encourage that, I send out a weekly update every Monday morning, explaining where we're at and what we're focusing on. A lot of the first messages during the lockdown were about reassuring our teams; people are a priority and their safety is paramount.
We've put a One Broker Positives Board on our intranet site, which has been great. We encourage people to share updates and comments about their life – as well as any tips. HR's Chloe Miller shared a picture of the mood rainbow she picked up from her child's school. Account Executive Rob Rowley even set up the Paramedic Arms for his team, so they can have regular socials on Microsoft Teams. It has really gained momentum.
What will the lasting impact of the coronavirus be at One Broker?
It will affect how we shape the business and how we shape teams moving forward. This lockdown has proved that we are motivated – and able – to work remotely. Our people are very flexible and want to work from home. Our IT teams are fantastic too.
There's likely to be less business travel too – and that's not just One Broker. I love being outdoors and I'm a bit of a tree-hugger, so this is great news for the environment. We need to protect it and we need to enjoy it. It's not about the hamster race. This is a real opportunity for change, and it will be interesting to see as the lockdown measures ease.
Have you seen any common themes with clients?
One of the things that's been impressive is the ability of our clients to change and diversify. It's so important.
Take, for instance, the plastics manufacturer who turned to providing screens for call centres, offices, schools and shops. Or the ambulance company; before the pandemic, 90% of their turnover came from patient transfer services. Now they're taking people for testing and transporting the deceased.
Our role, as an insurance broker, is making sure our clients have the right insurance for those changes. They need to have affordable cover for their new activities.
Read more: What is an insurance broker?
How are you supporting the wider community during this time?
We consider ourselves a community broker. We take our corporate responsibilities seriously and will continue to do so.
We always have a charity of the year, which is named in June. During 2019/20 we supported the Papworth Trust but we've also worked with Blood Bikes and St Martins Housing Trust in the past.
We're proud to say our teams have really stepped up. We've heard loads of examples of staff knocking on neighbours' doors, asking people if they need any shopping. That sort of thing is so important. Hopefully that'll be a positive change that continues post-lockdown.
In fact, on VE Day my family did a cream tea delivery. We prepared them in the morning, before delivering one to my wife's parents and one to my mum. Then we delivered one to a former RAF officer, who is a friend of the family. He's 88 and lives alone. It was great to do something nice for him – even if we did have to leave it on his back doorstep!
If you had to name one positive from the lockdown, what would it be?
For me, it's been finding out the depth of our people and their resilience. You have expectations about how people will react in a crisis and I've been pleased to see how everyone has pulled together. It's been inspiring to work alongside such a strong team.
Related Articles