12/10/2020
---
Life on Two Wheels
Ever wondered what it's like to run a motorcycle dealership? Or how to start one? In this article, the Torque Bike team speaks to Chris Waldron at Motorcycles UK about his favourite bikes, his experiences in the market and the challenges of launching a dealership in the shadow of a global pandemic.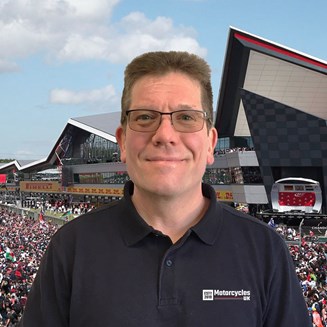 Chris Waldron knows bikes.
The co-founder of Motorcycles UK has ridden since his teenage years and is the proud owner of a 1986 Kawasaki GPZ1000-RX and a 17-year-old Kawasaki ZX12R.
"If I could have any bike," he muses, "it would be a 1998 Yamaha YZF-R1 in white and red. I had one when it was first released but they're extremely scarce now. 
"If I could, I'd love to have 10 or 12 bikes!"
In spite of his passion for life on the open road, Chris's career didn't start with motorbikes.
"I was a dealer principal for a large car dealership and had no intention to move to motorcycles until a friend asked me to help grow his business."
That was around 20 years ago and Chris hasn't looked back.
Market changes
In that first role, Chris helped a local business grow from a single dealership in Swindon to multiple locations across the south of England. He then moved to another firm, where he had similar success.
"The company started with three locations and around 400 sales per year, but grew to 10 locations and 3,000 sales. I've always been in business development and the best principles and practices apply as with the motor dealerships."
He points out that the market has changed significantly since his first forays in the sector, with various factors influencing the appetite for motorbike ownership.
Read more: Q&A with Doug Niven, Trustee of the Jim Clark Trust
"The price of motorbikes went up, followed by the 2008 recession and an economic slowdown, which caused a big shift. The price of most bikes went up by about 25% and hasn't come down since," he says.
"Legislation has also played a part in that slow down in motorcycle sales over the last decade. With more road regulations and difficulty obtaining a licence, demand for bikes has slowed."
Pandemic problems
Chris goes on to explain that the slow decline in sales has been compounded by the arrival of the coronavirus pandemic.
Motorcycles UK, which Chris runs with business partner Darren Neal, officially launched in March 2020, just as the UK went into lockdown.
"It was a tough time; we had only sold two bikes by Easter. We started to wonder about the future of the business.
"Since the restrictions have started to ease, numbers have jumped and we're on target to sell more than 200 bikes by the end of the year.
"Thankfully we operate on a slightly different model to other businesses," he continues. "Our showroom is only open from Thursday to Saturday. It's by appointment on the other days because much of our business is done online.
"Our business model has been a real benefit because we probably would have had to move in this direction anyway. Because it's just Darren and I running the business, we're very nimble and can make decisions very quickly."
There have been some learning curves on the admin side too, having never arranged business insurance from scratch.
Read more: What is an insurance broker?
"The Torque Bike team at One Broker was recommended to me by another motorcycle dealership. One Broker is very competitive and very supportive. They guided me through the setup process, which was useful because there was lots to consider.
"We've only had one minor claim with a smashed windscreen on a delivery van since we started. We weren't sure whether to make a claim or not, so I called One Broker and they explained what we should do and how to handle the process. It was very efficient.
"Long may it stay that way  – I'm keen not to tempt fate!"
Speak to Torque Bike today
Want to know more about how One Broker can help your business? Drop our Torque Bike team a line to discuss your motorcycle trade insurance needs today. 
Related Articles