20/11/2023
---
Festival Medical Services: One Broker Ambulance Case Study
When Glastonbury Festival opens each year, nearly 200,000 people pack up their things and head to Somerset. But with a population as large as a medium-sized town arriving, there's a huge need for comprehensive on-site medical cover to prevent local NHS services from being overwhelmed. This is where Festival Medical Services (FMS) steps in.
Providing many forms of medical support needed for an event of this size takes careful organising – and insurance cover you can depend on.
To find out more about Festival Medical Services and how it supports large-scale events, we sat down with Dave Parry, its Chief Operating Officer and Trustee.
In the beginning
The origins of Festival Medical Services stretch back to 1979, "Many decades ago now!" jokes Dave. The charity's foundations were laid by three people: Dave Parry, Dr Chris Howes and Nich Woolf.
Dave and Nich were working as paramedics for the Somerset Ambulance Service (as it was known then), while Chris was the local GP. The group were first introduced to the music festival when Chris was asked to help out by his senior partner; Nich and Dave went along to help him. "And the rest is history!" says Dave. 
After providing medical cover for the festival for several years with the help of local doctors and nurses, the group acknowledged that change was necessary. 
"We soon realised that there's a much better way to provide medical cover for events like this," explains Dave. "The number of people on site was just getting bigger and bigger each year, and local NHS facilities were seeing increasing numbers of walk-in patients. In addition, the number of casualties wanting treatment on site was rising as the festival grew."
They therefore reformed as Festival Medical Services, a not-for-profit organisation that welcomes volunteers from all aspects of medical care to look after festival goers. In the process, they also raise funds for various medical and educational projects all over the world. Their resulting success was acknowledged in 2020, when the charity won the Queen's Award for Voluntary Service (QAVS).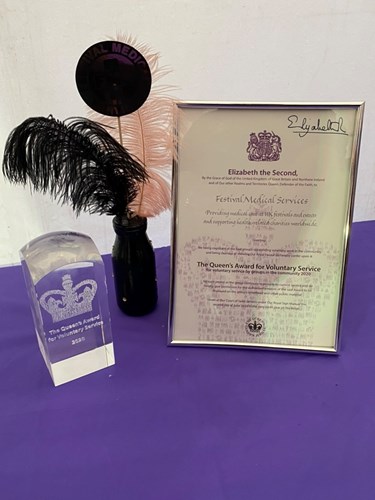 Today, Festival Medical Services continues to support 12 to 14 events every year, and has an impressive portfolio of some of the UK's most prestigious events, including Glastonbury Festival, Reading Festival and WOMAD. They also support smaller events throughout the winter season, such as fireworks displays and Oktoberfest events, "Where we all dress up and eat lots of sausages!"
For the last few years, Festival Medical Services has also been asked to assist the NHS by providing registrants and vaccinators in support of the Covid and flu vaccination program. This has helped to ensure that as many vulnerable people as possible are fully protected. 
Providing medical cover for a temporary town
For Glastonbury, Festival Medical Services has 850 of its volunteers on site. While there, they provide a range of services, including emergency medicine, minor injury care, podiatry, x-rays, physiotherapy, dental treatment, and mental health and well-being care. They also provide ambulances and a pharmacy on site: "Basically, we provide anything you can think of that is needed to give medical care for a population of around 200,000," comments Dave. 
All of these services are in great demand, which has meant that they have had to expand the range of treatments offered in recent years. During the festival itself, around 4,000 to 4,500 people are treated over the long weekend of the show. But the team is also on site before and after the festival, which means that cover is provided continuously for about 6 to 8 weeks to look after site workers and their families.  
"We primarily provide minor injury and emergency trauma cover, but the festival vibe is changing," says Dave. "More and more people are coming along with chronic conditions and illnesses, which means that the demand for general practice services and minor ailments, as well as emergency dental care, is increasing year-on-year. 
"We therefore have to provide a full range of services – it's not just a matter of looking after a crew member who has sustained a minor injury anymore. We're also now seeing people with chronic medical conditions that have suddenly worsened, such as epilepsy, asthma and diabetes. As a result, we have a full prescribing service with a pharmacy available at the larger events."
In addition to this, costs have been an increasing concern, with fuel, materials and medical consumables all rising in price.
However, as a not-for-profit charity with more than 2,000 volunteer medical professionals and health care staff on their books, their operating model means that they remain competitive in the market. It also means that it is still possible to create a surplus to donate to other great medical and educational charities around the globe.
"With our partners, we have donated over £1.5 million of medical equipment in the form of trauma boxes for Ukraine," adds Dave. "Each contains the specific medical equipment required to treat a severe injury. We continue to support medics working on the frontline and are always looking for ways to help them".
An insurance challenge
With such wide-ranging and complex services being offered, finding the right insurance can be very difficult.
"There are only a few providers for organisations like us," explains Dave. "No one really understands what we do and that it isn't just a case of offering first aid in a field and applying a bandage or two. It's much wider than that. 
"Some of the services we provide for the biggest events are far and above that of a couple of first aiders going to a garden fete. We can cater for that too, of course, but for the big events we rely on a wide range of medical disciplines. It can therefore be a challenge to explain that to insurers."
A colleague from another medical provider then told Dave about One Broker Ambulance. "This made me realise that there was an alternative out there and someone prepared to listen to what we needed," says Dave.
"We had a couple of initial meetings with Shane Ford from One Broker to discuss our current cover, and then he made a commitment to go to market and get us a more competitive deal when our existing cover was due for renewal. He did exactly what he said he would do."
Dave was delighted by the results: "One Broker Ambulance is very approachable and flexible, which you need in the environment we work in because it's so unpredictable. Having the right insurance in place and knowing that everything is ready to go is important. Shane did not just assume who we were, or try to pigeonhole us into a box. He listened to what we do and how we do it, and he found us the right cover at the right premium." 
Festival Medical Services now has a wide range of insurance protection, including Public Liability Insurance, Employers' Liability Insurance, Medical Indemnity, Fleet cover, Product Liability Insurance, Portable Medical Equipment cover, Commercial Property Insurance and Trustees Liability.
Their positive experience has led to Dave being happy to recommend One Broker Ambulance going forward. "Their service is comprehensive and professional. You can rely on them to deliver, and they give you complete confidence in your cover. 
"And yes, of course I would recommend them! We have just launched the Event Medical Association (EMA), where providers can come together and share best practice, resources and equipment, and get advice and guidance. 
"One of those shared resources will be the recommendation to go to One Broker Ambulance for insurance."
A privileged job
Looking to the future, Dave expects Festival Medical Services to continue expanding, although this has to be tempered by the fact that they rely on volunteers and that it would be easy to overstretch themselves.
He also expects more regulation and scrutiny of the sector, which he welcomes: "I think that things will become more formalised going forward. The Care Quality Commission (CQC) is starting to inspect the industry, and I think that many providers will need advice and guidance to be able to meet their requirements.
"There will be a big push for providers to have their insurance needs fully covered and the right policies in place. I think there'll be a lot more discussion around insurance in the industry, which is very important."
Despite the challenges of working for a not-for-profit with such a huge remit, Dave continues to love his work. "I stuck my toe in this particular pond over 40 years ago with the initial intention of helping out for a couple of years, and I have never left! This business has a family vibe – it's very different to the NHS. It's more upbeat because people actually want to be there and everyone is a volunteer. You can enjoy yourself and learn lots of good stuff, and the interactions you have with the team are an important part of that. When you're off-shift, there's an amazing social side to it too.
"Everyone does a couple of shifts, has a really good time, and then we all go home with a big smile having been to some of the biggest and best events in the world. That's an absolute privilege, which we all sometimes forget. We are so lucky to be able to do it."  
Talk to us about your insurance needs
If you'd like to discuss the insurance needs of your independent ambulance business or emergency services provider company, get in touch! 
Related Articles