03/07/2020
---
Classic Car Q&A with Adele Rand
We sit down with our very own Adele Rand to talk about classic cars. From her beloved MGF to common queries during lockdown, we get under the skin of her passion.
What's your first memory of a classic car?
My Grandad had an old Austin Allegro and, as a child, I really didn't like travelling in the back of it.
Later, a boyfriend of mine drove a white MGB, which was much nicer but he spent most of his time under the bonnet and not so much time with me!
I remember travelling to various beauty spots in Scotland and Yorkshire and thinking I was the bees knees. At that time, I also wanted an open-top car but to be honest, I didn't know one from t'other!
In a previous job, I worked with another classic car insurance broker but my role had nothing to do with classic cars, as it does at One Broker. As part of my role, I was responsible for cross-selling products to classic clients. I built up lots of great relationships at that time.
As a frustrated historian, I loved listening to the stories that surrounded the cars and the passion that went into their ownership. Eventually, I bought my own.
Which classic cars have you owned?
I have owned 2 MGFs. As a small sports car, it suits me down to the ground. We had to get rid of one of them because we lacked garage space but we still own my little blue Jenny.
She's a limited edition "Wedgewood Blue", so quite unusual. She's being restored at the moment because the body work has taken on some rust. I'm looking forward to driving her again.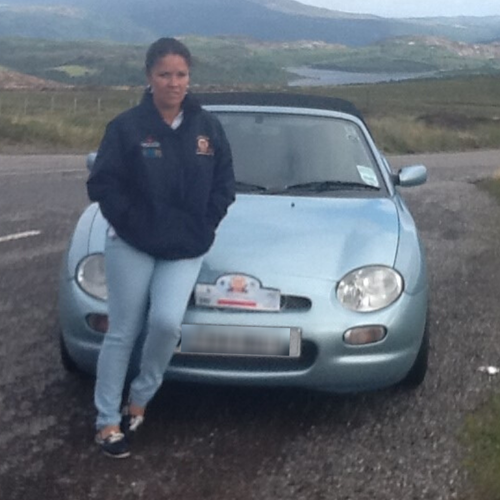 Which classic vehicle would you love to take a ride in?
Oh – that's difficult! I really like MGs but I would love to own a Morgan or a Wolseley. They have such a lovely, nostalgic look about them and they are certainly eye-catching.
Which car clubs are you a member of?
I'm currently a member of the MG Car Club and the Mercedes-Benz Club.
What are the car club members' insurance frustrations?
There are so many players in the market at the moment and a lack of differentiation. Most policies offer the same levels of cover and some brokers even sell the same policy as other brokers.
The key is to look for the gaps. For instance, understanding that car clubs require young blood for longevity, or that members would like their policies bundled into one, with lower administration fees to boot.
At One Broker, for instance, we include restoration cover to cater for the many members who spend a long time, in some cases years, restoring their pride and joy. This is often very expensive but not reflected in the agreed value, despite the improvement to the vehicle. If an accident or theft occurs, members are out of pocket and unable to replace the vehicle in peak condition.
Therefore, it's important to shop around for cover, not just price – although the One Broker Club Classic Vehicle policy is very competitive, even with additional covers.
Similarly, from experience, classic car owners like to talk turkey with people who understand the vehicle. They tend to shy away from call centres with large staff turnover. We're not like that. We're relationship-based. Our clients know who they're talking to each and every time they call – and they know that, as classic cars enthusiasts, we speak their language!
How are you finding the lockdown?
Lockdown is frustrating. As someone who should be driving around the country at various club events and talking to members, lockdown has interrupted my plans. That said, when I do get the opportunity, the roof comes down on Jenny.
Read more: 5 minutes with Colin Tebb of the Essex HMVA
I've been using her to do the shopping and while I have been volunteering for the NHS. I've had a lot of comments from some of the people I've been delivering medicines to because she's a nice car. I saw this as an opportunity to use my classic and I must admit, I'm enjoying it in this lovely weather!
What does a typical day look like to you?
At the moment, I start work earlier and finish earlier but flex my time around the needs of my clients. I'm never away from my phone whatever I do.
I tend to go for a long walk either to break up the day or to finish the day, depending on workload. If I have any deliveries to do, I fit them into either of these spaces.
I have really enjoyed talking to my clients, especially some of the traction engine owners, who have some lovely stories to tell.
Have there been any common questions from classic car owners during this time?
The most common question has been regarding laid-up cover.
Most classic car owners spend the winter and early spring getting their cars ready for the "season" but as COVID-19 and the resulting lockdown arrived, many decided to leave them in the garage or spend the time improving them. Laid-up cover comes in handy in this situation, so you're not paying for road risks.
We can be as flexible as our clients need, so if the nice weather continues, we can change over to comprehensive cover at that point. It's just a shame that the events we all attend have been cancelled so we can't actually show off our cars. I'm definitely looking forward to next year's season.
Need classic car insurance?
Call Adele on 03300 552659 to talk about your vehicle and discuss your needs.
Related Articles