15/03/2021
---
Broker Q&A with Ian Limeburner
With more than 20 years' service at One Broker under his belt, we caught up with Account Executive Ian Limeburner to find out more about his career to date, discussing everything from client challenges and Covid restrictions to Colin the dog. 
Let's go right back to the start. How did you come to work for One Broker?
I'd worked for a couple of different insurance brokers in the private insurance sphere in Norwich, doing Home Insurance and Car Insurance, before joining Knowlden Titlow [part of One Broker Group] in 2000. 
When I joined, I managed the Home Insurance scheme. Back then, we only offered private insurance to our commercial clients. We arranged cover for MDs, FDs and their employees, so it was a bit different from today. 
How did the move to business insurance come about?
Having worked in personal lines for around 5 years, the business recognised I had the potential to do something else. I was hungry and keen to develop so I took a role as a broking technician (or account handler, as it was then), supporting an account executive. 
I became an account executive in my own right around 14 years ago. I've grown and adapted over the years, becoming more efficient because of the amount of time I've spent at the coal face. 
Do you have any specialisms?
I've ended up being a specialist in Haulage Insurance, mainly because of my exposure to it over the years. But I look after anything commercial, really. I've got clients in the construction industry, motor trade and manufacturing, to name just a few.
Are there any common challenges among hauliers?
Haulage is a heavily compliance-based industry. They've got the HSE and DVSA looking at them, amongst others, and there are constant changes to the law. At the moment we've got the Direct Vision Standard coming through for vehicles that operate in London. There's a lot to keep track of.
Read more: Direct Vision Standard: What do you need to know?
What would people be most surprised to learn about your role?
The amount of work we do as insurance brokers. 
There's a tendency to believe that we just send a list of vehicles and claims history to the insurer and ask for a quote. In reality, our work is far more in-depth than that. 
Insurance isn't a tangible product, so part of my role is to make it as tangible as I can. I explain, in lay terms, what people are buying, why they're buying it and the impact of claims performance and market conditions on their cover. 
We're the conduit between technical policy schedules, their wordings and our clients, relaying information to them in an everyday way, so they can apply it to their business.
That brings us neatly onto customer service. How has that been affected during lockdown?
At the beginning – March and April last year – there was a lot of extra work. There was lots of liaison with clients, explaining the impact of coronavirus and how it affected their businesses. And people reacted in very different ways to the news. Some were calm and relaxed and others were naturally very concerned about their businesses and livelihoods. 
At One Broker, we sought to maintain high levels of customer service levels throughout. We focused on availability, consistency and delivering on our promises in a timely manner.
We tried to be proactive wherever possible too. For instance, when a client approached us about securing a rebate for laying up his vehicles, we contacted the insurer to find out the terms and conditions before going through the process. 
We then passed that information onto other clients who might be affected. We explained the methodology and how to get the best from the policy in order to secure a rebate. 
Our proactive approach is one of the reasons we have such a high client retention rate and the reason clients recommend us to their contacts. 
When it comes to structuring your days during lockdown, do you have a particular method?
Due to the current conditions of the business world, things are constantly changing, as are my clients' needs. It's very difficult to plan in advance because you never know what's going to be needed when.
Plus, my colleagues and insurers are remote-working too, which means they're navigating their own unique challenges, so I try to remain as flexible as possible.
As a result, my planning method tends to be an accumulation of tasks from prior days or things I know are urgent. I set myself a 'must-do' task list and an 'ideally-if-I-can' task list, alongside a few reminders of things I need to come back to.
Tell us more about Colin, your dog.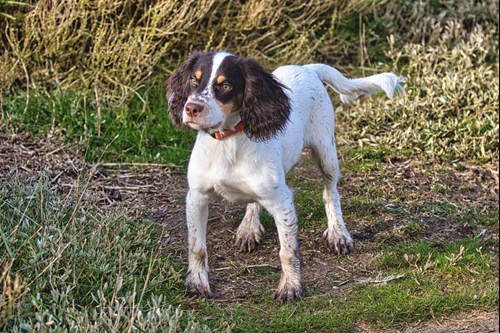 I've always wanted a dog and lockdown gave me the opportunity to get one. 
He's hitting what I refer to as a teenage period now!
He kicks his bowl around the floor when he wants food. On the whole, though, he's great and very good; he's an interesting little character. He's certainly staved off many hours of boredom and seen me get outside a lot more, which I'm grateful for at the moment. 
Have there been any positives as a result of lockdown – apart from Colin? 
Yeah, loads actually. I've reflected on this quite a lot of late. In the past, I've been guilty of going through weeks, months or even years without pausing to think about what's important to me, what I've achieved, want to achieve and what I want my life to look like. There's been more time for that during lockdown.
In terms of work, I've never been remote before and I found it quite difficult in the beginning. As time's gone by I've realised that, not only do I seem to be more effective, but I have a clearer headspace. I've become calmer. 
And when I take Colin out, I'm more mindful. I'm noticing the smells in the air, looking at the birds and the trees. I've always enjoyed that kind of thing but only tended to focus on it on holiday. That's changed now. I'm more aware.
To wrap up, what's your favourite part of your role?
I like being people's trusted adviser. I enjoy developing a relationship to the point where a client will put something in my hands and trust that it's going to be dealt with correctly and adequately. It's really rewarding.
Discuss your business insurance with Ian today
Give him a call on 01603 218228 or drop him a line by email.
Related Articles